HCFC news & events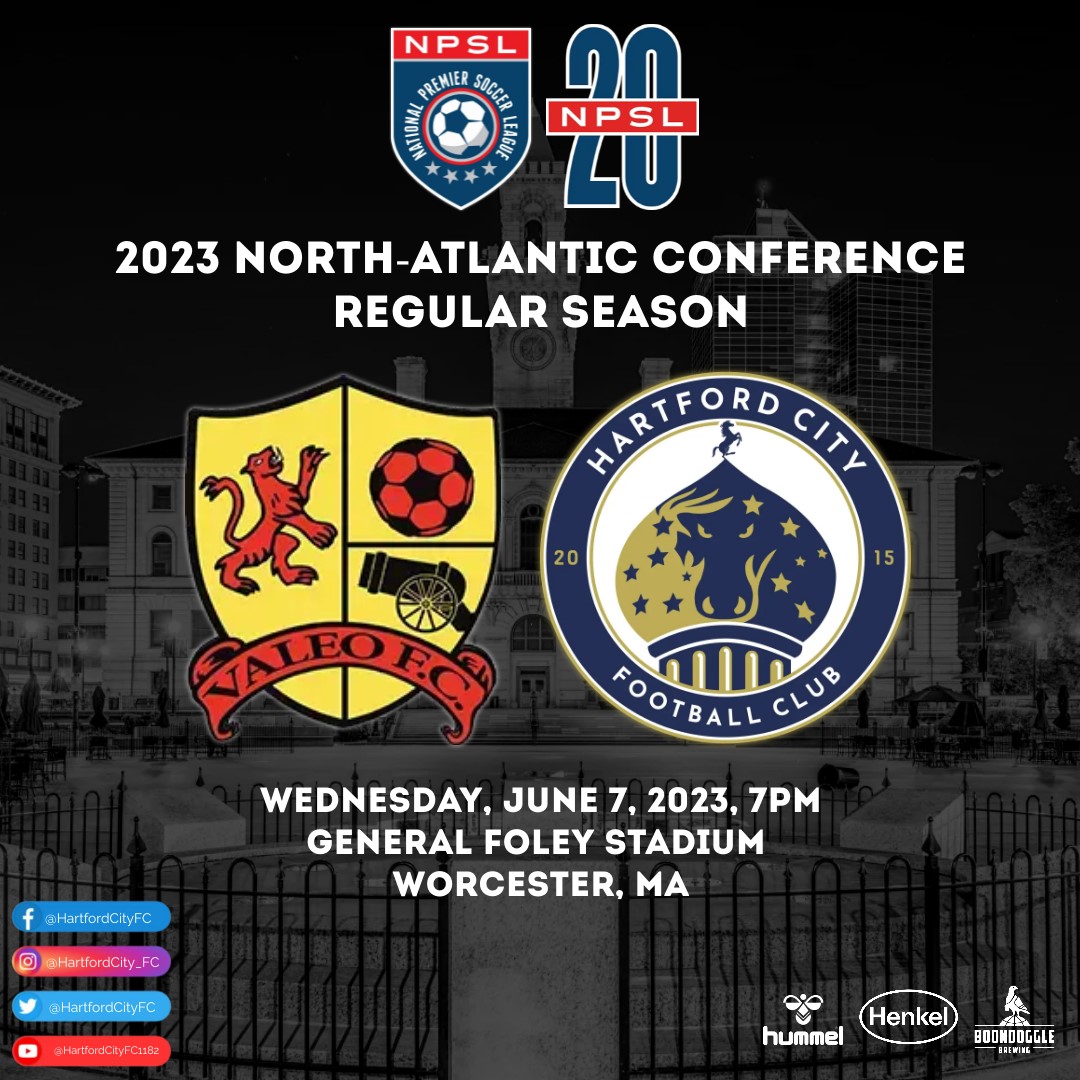 Hartford, Conn. – After dropping points for the first time in the 2023 NPSL season last weekend, Hartford City FC (3-1-0, 9 points) will play their double-match week this week, a true home-and-home week, against Valeo FC (0-3-1, 1 point). The Colts will travel to Valeo on Wednesday June 7th at 7pm before hosting their Bay State rivals on Sunday, June 11th at 2pm.
MATCH INFORMATION
Wednesday's match at Valeo FC will be played at General Foley Stadium (305 Chandler Street, Worcester, MA, 01602). Please keep an eye to the Hartford City social media accounts for more information about the match.
Tickets for Sunday's match at Trinity Health Stadium are available now by searching Hartford City FC on Soccerstub.com. General Admission tickets are $10 and Children aged 12 and under can get in for free.
If you can't make Sunday's home match, a free live stream will be provided at ElevenSports.com by searching Hartford City FC, or you can find the link on our social media platforms.
LAST TIME OUT
For the first time this season and in over two calendar years, Hartford City FC lost an NPSL Regular Season match as they fell to Kingston Stockade 3-0 this past Saturday evening up in Poughkeepsie, N.Y. It was the first time that the Colts hadn't earned a result in a regular season match since May 22, 2021, a 1-0 loss to the New York Shockers. Saturday's loss not only ended that 20-match unbeaten run but it also saw the Colts drop to second place in the North Atlantic Conference standings.
Kingston came out swinging early as they scored twice inside the first 25 minutes. Both goals came from Daniel D'Ippolito, with his first goal coming in the 11th minute after being played in on a Jacob Shulman through ball and slotted it past HCFC goalie Jamis Fite. The second goal came in the 25th minute from Hugo Guerra's assist, and after the first half ended 2-0 to Stockade FC, the Fordham midfielder would go on to secure his hat-trick, his second of the season, in the 56th minute.
ABOUT OUR OPPONENTS: VALEO FC
Valeo FC started their 2023 NPSL campaign with a three-match homestand and dropped all three of those games. One of those losses came at the hands of Hartford City, as the Colts got a pair second-half goals en route to a 2-0 victory. The goals came from each Matt McGonigle and Jake Williams and both were assisted by Evan Southern.
Valeo did pick up their first point of the season on Sunday with a 2-2 draw at Syracuse FC in a back-and-forth affair. After Syracuse scored the opening goal in the 36th minute, Marcus Viera leveled the score in the 65th minute from the penalty spot. Syracuse converted a penalty kick of their own in the 86th minute, which they thought would be enough to earn them the win, but Valeo's Taj Jensen scored in the 90th minute to give the Massachusetts club a 2-2 draw. Valeo will be looking to sharpen up their defense as they've conceded a Conference-high 11 goals from four matches, and are one of just six teams in the entire East Region to have already allowed double-digit goals in the first half of the regular season.
June 6 at 11:28 pm