HCFC news & events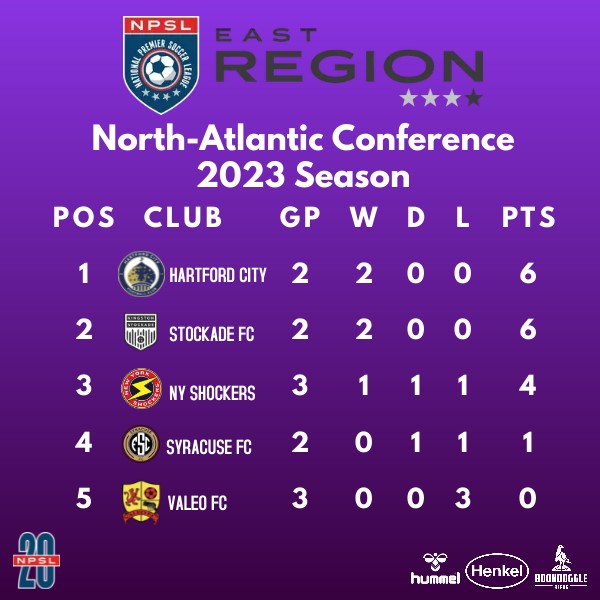 Hartford, Conn. – After a week off from the 2023 NPSL season-opening 2-1 win over Syracuse FC on May 14, Hartford City FC (1-0-0, 3 points) will play twice in the coming week. First up, the Colts will travel to Worcester, Mass. on Wednesday, May 24th to take on Valeo FC (0-2-0, 0 points) at 7pm. Then, HCFC will welcome the New York Shockers (1-1-1, 4 points) to the Trinity Health Stadium on Saturday, May 27th, with kickoff of that match also set for 7pm.
MATCH INFORMATION
Wednesday's match at Valeo FC will be played at General Foley Stadium (305 Chandler Street, Worcester, MA, 01602). Please keep an eye to the Hartford City social media accounts for more information about the match.
Tickets for Saturday's match at Trinity Health Stadium are available now by searching Hartford City FC on Soccerstub.com. General Admission tickets are $10 and Children aged 12 and under can get in for free. 2023 Hartford City FC Season tickets are also available now, also being sold by searching Hartford City FC on Soccerstub.com
If you can't make Saturday's home match, a free live stream will be provided at ElevenSports.com by searching Hartford City FC, or you can find the link on our social media platforms.
LAST TIME OUT
Hartford City opened the 2023 NPSL season on Mother's Day with a 2-1 victory over Syracuse FC. After a scoreless first half despite HCFC dominating possession, the Colts broke through early in the second half with a pair of goals inside of three minutes. Cooper Knecht scored the opener in the 50th minute after a corner wasn't cleared out by Syracuse and Knecht headed home Patrick Osiecki's cross. Just a few minutes later, the hosts doubled the lead when Matt McGonigle connected onto Griffin Tomas' cross with a diving header from six yards out. Syracuse got a goal back just after the hour mark when Cody Green got in behind and slotted one past HCFC 'keeper Jamis Fite, but that would be all the scoring on the afternoon.
The result extended Hartford City's unbeaten NPSL Regular Season match streak to 16 straight, as the last time the Colts lost a Regular Season contest was back on June 5th, 2021. Also HCFC have won all three matches against Syracuse FC by the same 2-1 score line.
ABOUT OUR OPPONENTS: VALEO FC
It hasn't been the start to the 2023 NPSL season that Valeo FC would have hoped for as the club have lost both of their matches so far this season. Their first match was at home on May 13th against New York Shockers and after Valeo's Gabriel Padilla tied the score at 1-1 in the 51st minute, the Shockers went on to score twice to take all three points. Last Saturday, Valeo lost a wild 3-2 match at home against Kingston Stockade where Stockade FC would have leads of 1-0 in the first half and 2-1 in the second half, but Valeo struck quickly each time after going behind. The first being Matthew Bell scoring after a long throw into the box in the 33rd minute and the second Valeo goal coming in the 71st minute on an own-goal. But Kingston's Daniel D'Ippolito, who scored the previous two goals for his squad, wrapped up his hat trick in the final quarter-hour to keep Valeo out of the win column.
Valeo FC are coming off their second consecutive season of making the postseason, as they finished second in the North Atlantic Conference with a 5-2-3 record but like Hartford City, they hosted a Conference Tournament semifinal match but bowed out of the competition at that stage with a loss to Cedar Stars FC. Returning from the squad last year is Matthew Bell, who registered eight goals last season
ABOUT OUR OPPONENTS: NEW YORK SHOCKERS
After reaching the North Atlantic Conference Tournament Final last season, the New York Shockers season got off to a slow start with 1-0 loss to Kingston Stockade on May 6th, giving up an early goal to Stockade's Michael Corbi and couldn't find their way back. The Shockers bounced back after that opening day defeat with a 3-1 victory over Valeo FC on May 13. Filippo Beliu scored twice inside the first 15 minutes in the second half, the latter of the two being the game-winner on the hour mark, before Jackson Leon's goal inside the final five minutes secured all three points. Last weekend in rainy conditions, the team played to a 0-0 draw with Syracuse FC despite the ever-present danger men of Adetayo Adefioye, who earned All-Conference Best XI honors last year, and Pedro Espindola each having a handful of chances to break the deadlock throughout the match, but both teams shared the points.
May 25 at 2:15 pm